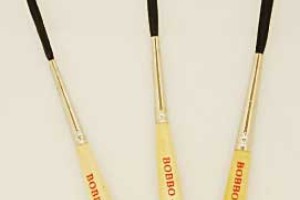 Mack brush Series 71 Bobbo Mack Super Quad Pinstriping Scrolling Brushes
Buy the Series 71 Bobbo Mack brush Super Quad Scroll pinstripe Series Brushes here,This brush was created by Bobbo in conjunction with Mack Brush to develop a new brush for the pin-striper/sign painter/ artist to fulfill some of the difficult tasks of using a brush to its fullest. This brush has adequate snap and flexibility other brushes don't have. This allows the pin-striper, sign painter, or artist to use one brush for four purposes without having to change brushes or color. This brush because of it's shorter bristles and fine blue squirrel and black synthetic hair makes scrolling easier and faster. Available in sizes 00, 0, 1 and 2. Individual Brushes LISTED BELOW!
There are no products to list in this category.