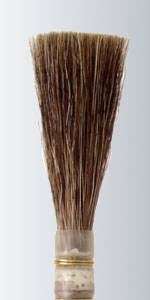 Scharff Series 2000 Gray Lettering Quills

Buy Scharff Series 2000 Gray Lettering Quills by Scharff Brush for sale to Buy here. These are Rock Solid, the 2000 Grey Line Quills are the Iron-horse of lettering Quill Out-liners. Made from Grey Talahutky Squirrel hair. Used by professional Sign Painters and Pinstripers for hand lettering from coast to coast. these brushes can be used for outlining letters or stripes and are very durable. 2000 Series Grey Lettering Quills work in oil or water, but work best with oil based lettering enamels.
Brushes Listed Below!
Quill Lettering Brushes
Click the linked Pictures to view or buy different Quill Lettering Brushes.
Showing 1 to 17 of 17 (1 Pages)