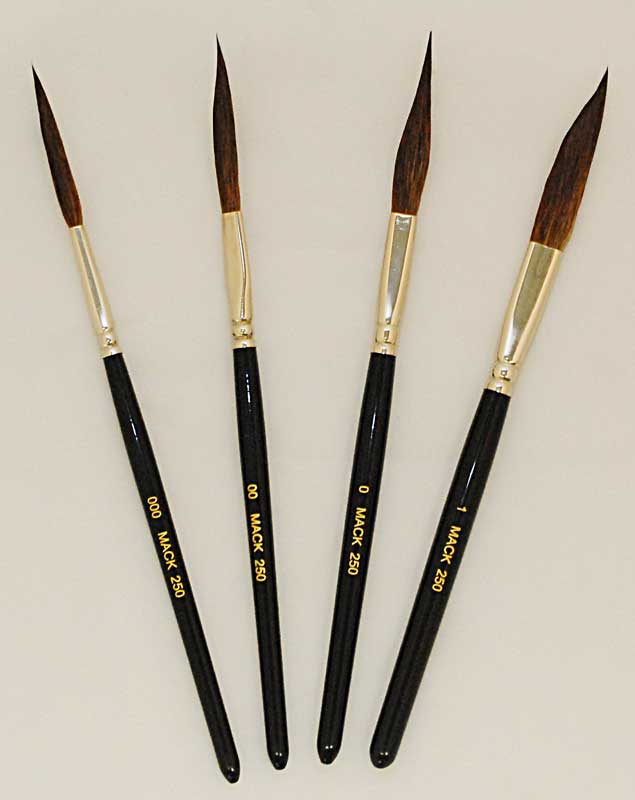 Long Handle Sword Pinstriping Brushes series 250
Long Handle Sword Pinstriping Brushes series 250 is a favorite of Sign Painters because of the long handle that's simular to a Lettering Brush. Pinstripers love the long reach the handle provides, which can help you reach some of the harder areas and deep pockets when pinstriping. The Long Handle Sword Pinstriping Brushes series 250 has Black lacquered handles with graduated Brown Kazan Squirrel hair lengths from 1 5/8" to 2" held together with seamless nickel ferrules. Available in sizes 000, 00, 0 and 1 The only difference between 251 and 250 is that series 251 is Exactly the same as the Series 250, but made with a raw wood plain, non-lacquered handle. Individual Long Handle Sword Pinstriping Brushes series 250 listed below.
Brush Tips by Ron Percell, how much of the brush touches the surface when using a pinstriping brush?. You can use all of the brush if you want to, and lay it sideways to fill in designs. Now if you want to do it correctly, look at the belly of the pinstriping brush where it's round all the way to the tip. The curved shaped of the brush is the area of the brush that you'll work from, this angle also indicates the angle (tilt) in which you hold the pinstriping brush based on the way the pinstriping brush is design. The rest of the area behind the brush is for the load of paint. Some jobs require more paint, some less, over my career I've thousands of artists and some would pull short lines while others would pull an entire pinstripe in one stroke, it's your choice but I'd learn to pull both type of lines and that why there's so many types of pinstriping brushes.
Showing 1 to 5 of 5 (1 Pages)