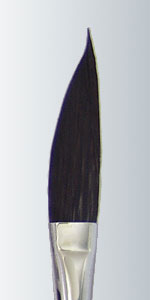 Aqua-Flow Dagger Pinstriping Brushes series 990
Buy Aqua-Flow Dagger Pinstriping Brushes series 990 by Scharff Brush for Pinstriper's and Sign Painter's for Sale here. These Pinstriping brushes are made from a unique blend of Black Taklon and Squirrel Hair that is ideally suited for watercolors and all water-based and oil products attached to a raw wood handle. They are excellent for Pinstriping and decorative paining, used by Pinstripers and Sign Painters everywhere! Aqua-Flow Dagger Pinstriping Brushes series 990 Dagger's longest hairs on top (tip) and tapers back to a shorter length on the underside on both sides by the handle. The Dagger brush originated on the early assembly lines, used mainly for automotive paint touch-ups. Over the years, brushes have evolved to better suit pinstripers' needs, with short and long handles, large and small bellies (the middle section where the paint is carried), and different kinds of hair - squirrel hair being the most commonly used. Available in three sizes 1/4", size 1/2" and size 3/8". Aqua-Flow Dagger Pinstriping Brushes series 990 listed below for sale.
Brush Tips by Ron Percell, how much of the brush touches the surface when using a pinstriping brush?. You can use all of the brush if you want to, and lay it sideways to fill in designs. Now if you want to do it correctly, look at the belly of the pinstriping brush where it's round all the way to the tip. The curved shaped of the brush is the area of the brush that you'll work from, this angle also indicates the angle (tilt) in which you hold the pinstriping brush based on the way the pinstriping brush is design. The rest of the area behind the brush is for the load of paint. Some jobs require more paint, some less, over my career I've thousands of artists and some would pull short lines while others would pull an entire pinstripe in one stroke, it's your choice but I'd learn to pull both type of lines and that why there's so many types of pinstriping brushes.
Showing 1 to 4 of 4 (1 Pages)