Glue chipping-amazing glass craft tutorial step 5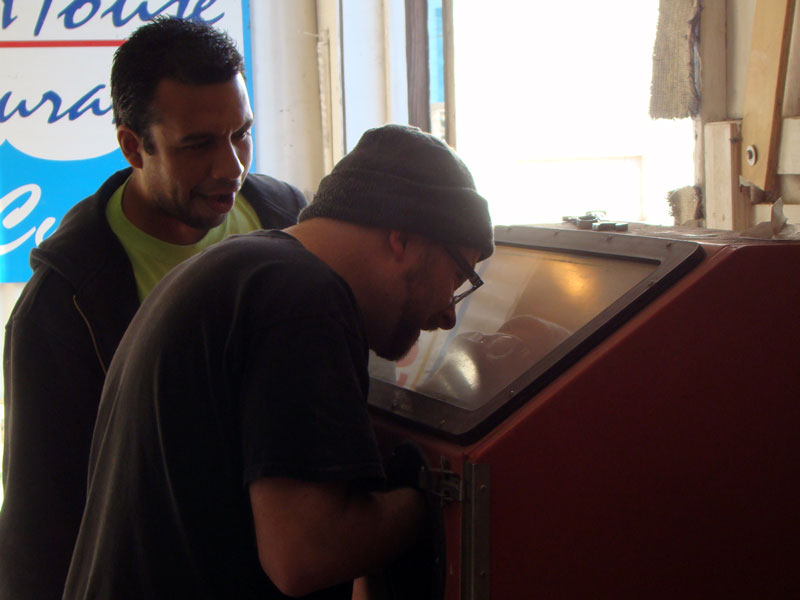 Use all safety precautions when sandblasting. a safe area or cabinet, air masks, eye, hand and body protection, dust from sand-blasting will damage your lungs, be safe, think safety first.
Step 5. Sand-blasting
Take your time sandblasting glass. If you get to close with the tip of the sandblaster, the masking can get burned and or blow off. Hold the sandblast nozzle square to the glass panel, if you spray at an angle, the aluminum oxide could also blow the masking up or off.
Glue-chipping Glass only requires that you remove the gloss leaving a light frost. do not touch frosted area after blasting, you'll cut your fingers in the dust and you'll be oil contaminating the frosted glass.
Do not Carve deep, sandblasting deep is bad because the hide glue will hang onto the sidewalls and chip sideways out of you lines
As you carefully blast, the aluminum oxide removes the asphaltum varnish in which these area are ready. there is allot of dust when blasting so the black color of the asphaltum varnish makes it easier to view, again one the black is gone, your finished. Every one in a while I'll get a stubborn spot of asphaltum while sand-blasting, so I pause the equipment and use a blade to chipped off the thick spot, then I finish up by lightly frost that spot. Do not Carve deep, sandblasting deep is bad

glue chipping products listed below
Sub Catagories
Showing 1 to 11 of 11 (1 Pages)