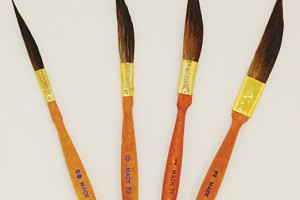 Series 70 Water-Based Sword Striper

Mack Brush Series 70 Water-based Stripers. These brushes are made very similasr to the Mack Brush Fast-Lite Pinstriping brush - but with mixed hair to give the brush more body. Water-based paint has a higher density and Mack had to mix taklon with pure squirrel for body & snap, but Mack kept a generous amount of pure squirrel in the brush to carry enought paint to make it a good striper. A great outdoor pinstriping brush for a windy day, holds it body and shape. Used by Pinstripers and Sign Painters everywhere!

Individual Brushes LISTED BELOW!


Showing 1 to 4 of 4 (1 Pages)